Annual Conference
62nd Annual Keynote Speakers
1st Session:
Sponsored by: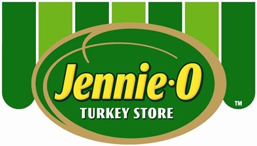 Jarrett J. Krosoczka
Author of The Lunch Lady Superheroine Graphic Novels
Friday, November 14, 2014: 3:15p.m. – 5:00p.m.
Jarrett J. Krosoczka has been passionate about storytelling through words and pictures since he was a kid. He began his professional career by illustrating educational readers for a national publisher while still an undergraduate at Rhode Island School of Design. Then, just six months after graduation, Jarrett received his first contract for a trade book that he authored. Knopf Books for Young Readers published Good Night, Monkey Boy on June 12, 2001 and Jarrett hasn't stopped or slowed down since.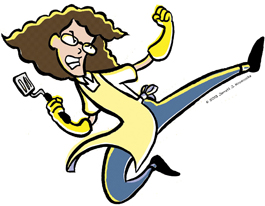 Jarrett is a two-time winner of the Children's Choice Book Award for the Third to Fourth Grade Book of the Year and is the author and illustrator of twenty books including the Lunch Lady graphic novels and the just released Platypus Police Squad middlegrade chapter book series. Jarrett's TED Talk on his journey from boy to artist has been viewed more than a half-million times. He is also the host of The Book Report with JJK on SiriusXM's Kids Place Live, a weekly segment celebrating books, authors and reading. His work was recently featured on the front page of The Boston Globe and on NPR's All Things Considered. It has also been recommended by national publications such as Newsweek, The New York Times and USA Today. His Punk Farm picture book and Lunch Lady series are both currently in development as feature films. Jarrett lives in Western Massachusetts with his wife, two daughters and their pug-Ralph Macchio.
Be with us on Friday for what is sure to be a fun-filled session!
---
2nd Session: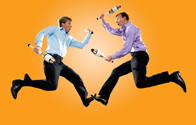 Owen Morse & Jon Wee
"The Passing Zone"
Saturday, November 15, 2014: 4:00p.m. – 5:30p.m.
Teamwork: The Power of Partnership - Many speakers talk about teamwork. Jon and Owen do it. Their success is proven, their talent unique, and nowhere else will you see such an exciting demonstration of the amazing things that can be accomplished when people work together.
The Passing Zone is a comedy duo who not only work together - their safety is in each other's hands! Every moment of this presentation is a clear example of collaboration between two people who have prepared, who rely on each other's strengths, who communicate, trust, and have fun cooperating. Their entertaining and inspiring performance uses big laughs, exciting stunts, and flawless teamwork, creating an unforgettable experience for any industry.
Audience members discover:
The importance of recovering from setbacks
How working well together creates a cohesive, effective team
The value of trust
What it takes for teamwork excellence
How to foster relationships with partners and customers
How to laugh together
Throwing chainsaws, balancing on each others' shoulders while juggling flaming torches, demonstrating teamwork by getting people from the audience to participate - are all part of Teamwork: The Power of Partnership. Imagine your CEO standing in the middle of flying sickles and blazing torches! They even juggle three people from the audience in their exciting piece - People-Juggling.
Don't just tell your people how to be a team...show them.
This keynote is all about people. Your people. Becoming better together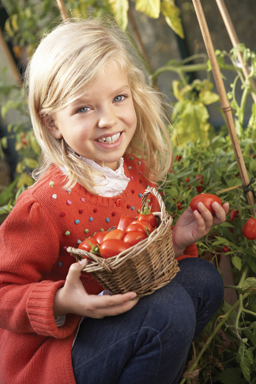 Upcoming CSNA Events
November 8-11, 2018
66th Annual Conference
Long Beach, CA
---
January 27-29, 2019
Legislation Action Conference
---
May 5-7, 2019
Child Nutrition & Industry Summit
Laguna Cliffs Mariott, CA
---