News Items
Tray Talk Video Spotlight on Farm to School
(October 5th, 2011)

Tray Talk introduces a new series of videos spotlighting school nutrition success stories from across the country. In honor of National School Lunch Week and "School Lunch - Let's Grow Healthy", the first video focuses on Farm to School and shows how the Burlington School Food Project (Vermont) is connecting students and their families with wholesome, local and fresh foods.
Watch the video about Burlington's amazing Farm to School Program at the
Tray Talk Website
.
New Jersey Cafeterias Serving Up Rachael Ray's Healthy School Recipes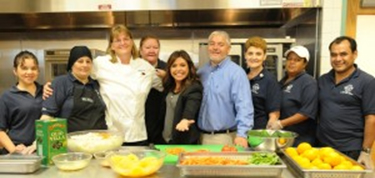 Rachael Ray joins Sal Valenza and his nutrition team in their West New York
Schools kitchen
West New York Schools (NJ) are always looking for fun ways to get students excited about eating healthier meals. So when the Alliance for a Healthier Generation and television personality and author Rachael Ray asked them to test healthy new school meal recipes with their students, they jumped at the chance.
The school nutrition team gave the recipes a trial run in their school kitchens, collecting feedback from students as well as the school chef and cooks who prepared the dishes. Now, students in New Jersey and in schools throughout the country are enjoying Rachael Ray's Cheesy Mac & Trees, BBQ Turkey Sloppy Joes and other scratch-prepared, veggie-infused, low-fat and low-sodium dishes.
Read the full success story at
http://www.traytalk.org/success_story/new-jersey-cafeterias-serving-up-rachael-ray%E2%80%99s-healthy-school-recipes/
Or access the Rachael Ray recipes at
http://www.healthiergeneration.org/schools.aspx?id=4294967482
Use Tray Talk Resources to Respond to Questions about Mrs Q's Book
Mrs. Q's book
Fed Up with Lunch, How one Anonymous Teacher Revealed the Truth about School Lunches - and How We Can Change Them
was released today and has received both national TV and newspaper attention.
If you get questions from parents, remember this book only speaks to the meals served in one school. You can show how your school and schools across the country are serving healthy meals with fresh fruits and vegetables.
Check out the Healthy School Meal talking points at
http://www.schoolnutrition.org/Level2_TrayTalk.aspx?id=14295
. If you can customize these talking points with details about your success stories - how you have worked to serve more fresh produce and to get kids excited about healthy choices, you'll be prepared to respond to any questions that come your way.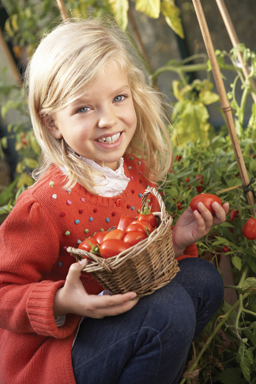 Upcoming CSNA Events
November 8-11, 2018
66th Annual Conference
Long Beach, CA
---
January 27-29, 2019
Legislation Action Conference
---
May 5-7, 2019
Child Nutrition & Industry Summit
Laguna Cliffs Mariott, CA
---